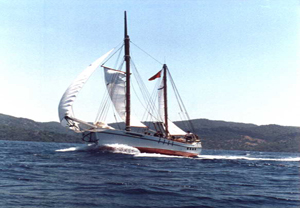 Booking-turkey.com can promise you the holiday of a lifetime on a goulette cruise. This is the perfect way to savour the timeless beauty of Turkey's coast with day after tranquil day sailing on a turquoise sea, dropping anchor to explore idyllic little islands and swim in the warm crystal-clear waters of secluded beach-fringed bays.

| | |
| --- | --- |
| | Blue Cruise(cruising in South West Turkey) is one of the most relaxing vacations on earth. It is a unique form of cruising and yachting experience. An adventure that takes you to the magic of myths three millennia old; under the Mediterranean sun and in the turquoise blue of crystal waters. It is also an opportunity to taste Turkish cuisine as well as fresh fish |
| | |
SAIL PRICES
IN TURKEY
IN GREEK ISLANDS
April
350$ /per day
400$ /per day
May
375$ /per day
425$ /per day
June & Oct
425$ /per day
475$ /per day
July & Sept
475$ /per day
525$ /per day
August
500$ /per day prices are per day for the boat for 8
575$ /per day
prices are per day for the boat for 8 +port taxes, + custom taxes
IMPORTANT : Transfers from Antalya, Dalaman, Bodrum are operated with our minibus,as free of charge...
PRICES PER DAY FULL BOARD FOR THE BOAT (4 DOUBLE CABINS FOR UP TO 8 GUESTS).


SAIL IN TURKEY
1.Cruise CRUISING/SAILING FETHIYE-GOCEK-FETHIYE (7 days)
2.Cruise BODRUM-KOS-SYMI-RHODES-MARMARIS (7 days)
3.Cruise FETHIYE-RHODES-KARPATHOS-CRETE-SANTORINI
ASTROPALIA-KOS-BODRUM (14 days)
4.Cruise KAS-KEKOVA-KAS (7 days)
5.Cruise FETHIYE-EKINCIK(DALYAN)-MARMARIS (7 days)